Discussion Starter
·
#1
·
April is rolling around. We have a lot of new guys. So it's the perfect time to have another Meet and Greet. This will be our 4th M&G. If this is your first M&G, check out the previous ones listed below. Come show off your rig, meet some new people, and run a trail after. Family friendly.
This year, we're having the M&G at
http://www.claremonttoyota.com/"]Claremont Toyota[/URL]
on
4/19/08 (Saturday) 10:00am-12:30pm
.
Bring your family, your friends, and your FJ! Claremont Toyota is located
here
.
The address is: 508 Auto Center Drive Claremont, California 91711.
It's about 4 miles east of the 57 fwy on I-10. We can easily access either Azusa OHV, Lytle Creek, or Cleghorn after the Meet.
Claremont Toyota will provide BBQ for lunch, TRD display, a Toyota tech for Q&A or demonstration, discount on parts or service, and maybe some freebies.
Please put this on your calender.
The Meet and Greet is also a great opportunity to sell, trade, buy, or giveaway some stuff. More details here:
http://www.fjcruiserforums.com/forums/socal-region/55014-meet-greet-sells-trades.html#post925246
There's a 1 day only discount
happening at the Meet and Greet. TRD Source would like us to make a list of items we would like to see discounted (thank you Randy!). Please post here: http://www.fjcruiserforums.com/forums/trdsource-com/55017-meet-greet-desired-parts-list.html#post925298"]TRD Source Discounts for Meet and Greet.[/URL]
Here is a list of people interested
. I need to keep this list current so I can update Claremont Toyota of how many people will be there (lunch preparations). Please indicate how many are coming. If you went from a maybe to a definite, please let me know too. Looking forward to seeing all of you!

Please indicate if you would be attending the trails after the Meet & Greet.
Event and Trail
Event Only
1. Fjamming (4)
2. FJVP (4)
3. Tubig (1)
4. Geo88
5. GTKrockeTT (2)
6. Piper (4)
7. DominicG
8. UnknownuserX
9. Zen Moto
10. FJ Funjunkie
11. AceTechno (2)
12. TIT-CRUISER
13. bph
14. FJchema (2)
15. MIKESCRUISER
16. RESE
17. projekt4
18. LUCKYSTRIKE
19. FJC8871 (2)
20. 1SIKFJC (4)
21. Underoath (1)
22. fjessence (2)
23. Bob180 (2)
24. dirtchick (3)
25. bigkidd
26. Volhoo
27. krishna (2)
28. Hardluck(2)
29. TheGodFather (2)
30. Dead Prez (2)
31. FJ4x420 (2)
32. seal13il
33. Underactive (2-3)
34. skersfan (2)
35. SoCalOcFj
36. kokopeli (2)
37. FJGEZR (2)
38. pokerDawg
39. Jon B
40. Mattmainster (4)
41. FJGordy (1)
42. MtnPig (2.3)
43. CADavebert
44. Elefex (3)
45. KingCong
46. Tarik (2)
47. Thugasaur
48. RicoVerde (2)
49. FJ4J (2)
50. Uphill (2)
51. gilessankey (3)
52. mtnkraut
53. Oscarr (3)
54. IceBerg (4)
55. Felonius
56. erikc (4)
57. Moeses18 (2)
58. psheat (2)
59. vierzwanzig (2)
60. Air2air
61. jrock (2)
62. vhram (3)
63. FJDave (2)
64. Cruiserlarry
65. Freshchip (3)
66. WoolyMammoth
67. plnfixr320(2)
68. Dustpark (2)
69. Mir207 (2)
70. mylittleburro (2)
71. MKOAZ (4)
72. kingazteca
73. FJadmin (2-3)
74. FJjim112
75. Oscarr Sr.
76. FJ4me
77. Eagle Scout
78. biggkid
79. Teotwaki
80. Cruiser4
81. StHarris
82. Hovsepdov (4)
83. MudlovingFJ (2)
84. FJsRKool
85. FJTrain
86. EmpireV (2)
87. BrandonH
88. noty21 (2)
89. pbstriker38 (4)
90. Sanderhawk (2)
91. Yota951 (2)
---Maybe---
1. Martyr
2. Frogeye
3. Jeshua
4. Jerroranda
5. cowboy4x4
6. Tmaxxgod4
7. wrigman
8. yusuke41
9. FJ-Ollie (1.25)
10. PreRunner
11. smitty_runner (2)
12. iCruiser (2)
13. FJShock (2)
14. Blown383 (2)
15. landcruiser92 (2)
16. Chatsworth 818 FJ
17. moub838
18. cnynrat (2)
19. DAS-GTI
20. kingazteca (2)
21. Muddygrrl
22. RangerJoe (2)
Trail Run Info:​
Traditionally, a Meet and Greet is not a Meet and Greet if we don't hit the trails after. So this will be no different.
Since this year, Azusa may be unavialable (closure due to Edison work), we will most likely head for
Lytle Creek
or
Cleghorn
. Both places offer fantastic wheeling. Cleghorn is a fire road with "challenge" just off the main trail. However you stray from the fire road, you will always return to the main trail so the fun never ends. Lytle Creek is a mild trail with some rocks and uneven terrain. You'll weave through the tall pines as you progress. Cleghorn can be more technical if you chose to do the challenges. If you stay on the main trail, you can get through with a Civic. The good thing about that trail is you can pick and chose what you want to do. Lytle is more wide open and obstacles are easy to get around-there's plenty of room. I'll try and see if I can get the ranger to open up the back route up to Mt. Baldy's sky resort.
Depending on the amount of vehicles that may attend the trail after, we may decide to break up the group into 2. One group head for Cleghorn and another head for Lytle Creek. If we have 40 rigs, we'll break up into groups of 6-7 and head for Cleghorn. Some may even decide to continue on after Cleghorn and head for Arrowhead via Pilot Rock. We'll stagger the starts 10 min. so as to not congest the trail. The first group can start to leave 12:10. We'll get everyone through. If this is your first time out or have limited off road experience, you'll like these trails. Pick and chose the challenges as you see fit. If you are not comfortable with anything, just stay on the main trail. There's no pressure. If you would like some spotting, others will be more then willing to help.
If Azusa opens up, we'll stagger our starts and head over there.
It's wide open and just fun!

-----------------------------Trail Info----------------------------------​
Lytle Creek, Cleghorn Fire Road, Azusa OHV
Lytle Creek
:
http://www.dirtopia.com/wiki/Lytle_Creek_Ridge_Trail"]Lytle
Creek Ridge Trail - Dirtopia, the Off-Road Encyclopedia[/URL]
Beginning at the town of Wrightwood, the Lytle Creek Ridge Trail moves along its perimeter onto the Lone Pine Canyon Road. After travelling for about 4 miles the road turns onto a small dirt path which ascends up a ridge into San Bernardino National Forest.
One of the first things you notice is that this route has witnessed a number of landslides. Not surprising, as it falls in the San Andreas Rift Zone. Moving along you finally reach the top of the Lytle Creek Ridge. For those who prefer camping, you will find a very good campsite here. If you walk through a little trail you will arrive at the base of Gobblers Knob. Unpack and camp a while.
For those who prefer some more action, you can follow the main trail right to the top. Amazing views of the Lone Pine Canyon greet you. You can view as far as the north and south of Lytle Creek. Go further and the trail moves downwards passing by the Sheep Creek out onto the Lytle Creek road. This road takes you to the west of Applewhite Picnic Ground which is near the little homestead of Scotland.
Cleghorn
:
http://www.dirtopia.com/wiki/Cleghorn_Ridge_Trail"]Cleghorn
Ridge Trail - Dirtopia, the Off-Road Encyclopedi[/URL]a
Cleghorn Ridge Trail is a combination of two separate trails, one difficult and the other easy that intersect at several points. Beginning at Silverwood Lake, California 138 this trial offers ridge top views over Mount Baldy and ends at I-15 at Cajon exit.
The roughly graded route in this trail is suitable for high clearance 2WD in dry weather.
There is a separate 4WD trail (marked as 2N17X that runs parallel to the main route and is smaller. This one intersects the main trail often and has a rating of "difficult". The good news is that drivers are able to view the route beforehand and can choose the sections they want to leave out. The start of the trail has an easy rating which gets tougher as you move towards the top of the Cleghorn Ridge.
It is advisable to use a smaller vehicle as the less difficult areas too require good wheel articulation and placement between boulders and obstacles.
Victor Valley 4-Wheelers, a local 4WD club, looks after the basic trail maintenance so it is not too bad.
Azusa OHV
http://www.dirtopia.com/wiki/Azusa_Canyon"]Azusa
Canyon - Dirtopia, the Off-Road Encyclopedia[/URL]
Azusa Canyon is exceptionally known for the wonderful experience of getting mud all over you. There is a huge sandy mud bed of a river that is fed by the rains and varies in size. There is a reservoir at the end which turns into a real big mud bath.
If you choose to do the Azusa OHV area it is located 9 miles to the north of 210 freeway on Azusa (highway 39). There is a fee to use the trail ($8.00 per day open Sat. Sun.& Holidays) and entry depends on time and season.
There are activities like rock and hill climbing and sand banks for you to indulge in as well. Many 4x4 enthusiasts take to this trail often.
If you find yourself stuck in the mud enjoying yourself and then can't get yourself out, don't panic! You will find loads of ready hands to bail you out.
This is a great place to be in if you live close to LA.
2N17
need a good written description
__________________
Jim
'05 4Runner V6 4x4
Want to come to the M&G with en masse? Here's a list of caravans. Contact the organizers of the caravans and visit the thread for the latest details.
CADavebert
-
http://www.fjcruiserforums.com/forums/socal-region/54378-south-oc-caravan-m-g-iv.html"]South
OC Caravan[/URL]
oscarr
-
http://www.fjcruiserforums.com/forums/socal-region/54400-westside-caravan-meet-greet.html"]Westside
Caravan[/URL]
GTKrockeTT
-
http://www.fjcruiserforums.com/forums/socal-region/54429-sgv-caravan-m-g.html"]San
Gabriel Vally Caravan[/URL]
FJC8871
-
http://www.fjcruiserforums.com/forums/socal-region/54403-south-bay-caravan-meet-greet.html"]South
Bay Caravan[/URL]
FJDave
-
http://www.fjcruiserforums.com/forums/socal-region/54474-west-oc-caravan-m-g.html#post920738"]West
OC Caravan[/URL].
seal13il
-
http://www.fjcruiserforums.com/forums/socal-region/54476-m-g-west-los-angeles-caravan.html#post920784"]West
Los Angeles Caravan[/URL]
By the way, if you don't have a FJ, but are interested in this meet, come join us too.
Meet and Greet II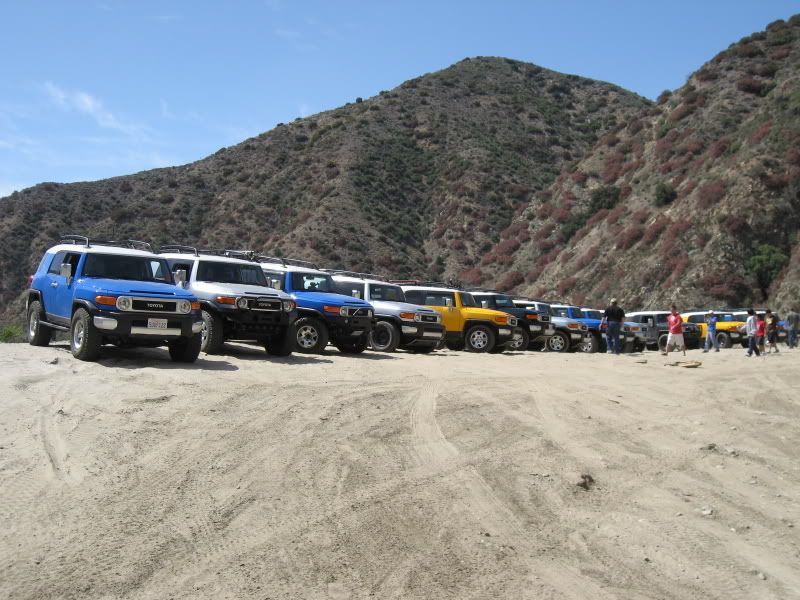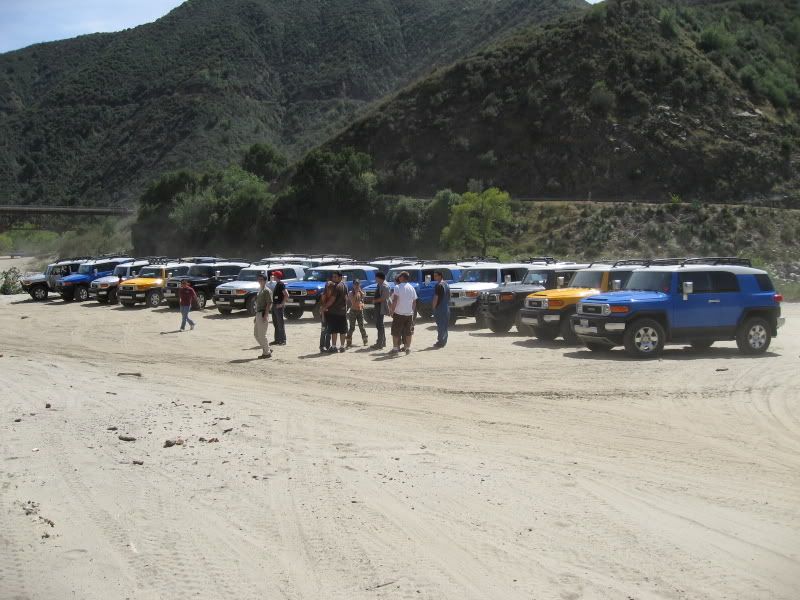 Meet and Greet III