Discussion Starter
·
#1
·
Grand Staircase Expedition
If any of you are
SERIOUSLY INTERESTED
, post up.
I will limit the run to ten rigs
and I'm posting the interest list here, not on the Blue Forum. If I don't get much/enough interest here, I'll resort to the Blue Forum later. Please ask to be put on the stand-by list if you are not SURE you are going. We all know that stuff happens in life, but "sure" means "sure".
Vehicle Requirements:
- you must meet these simple criteria or don't go.
4x4
-Skid Plates (you decide how much you need)/Sliders
-15 gallons of spare fuel (you'll need it)
-attitude (just look at Skersfan and you'll know what I mean)
-relocate your rear differential and e-locker breathers (Scuba Driver Mod) for the water crossings. I don't expect deep water at this time of the year. It might not be more than a trickle depending on how "early" winter comes. But better to be prepared and the cost in time and materials is nominal.
(**If anyone needs help doing it, let me know and I'll help you. If a few need help, we may do a "Scuba Driver Party and order Pizza or something)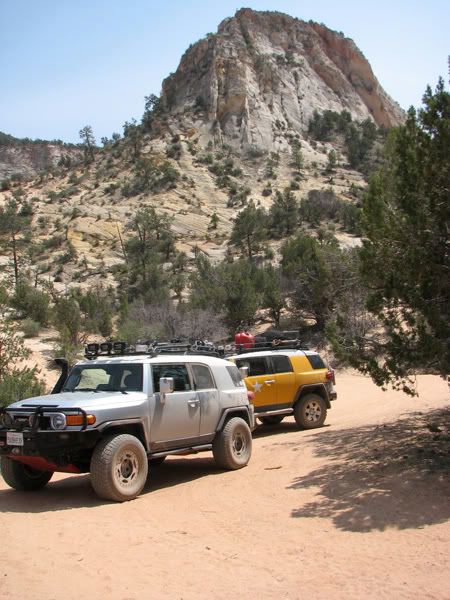 Rigs on the trail.
Desirable but not mandatory:
All-Terrain or better tires (which means that you are likely to have problems with the OEM tire traction)
High Clearance (if you have skids but no clearance, we can always winch you along on your skids)
Rear shackle in hitch mount
CB Radio/Ham Radio
Shovel
Winch
Pull Pal
Sand Ladders
etc. - Everything you think you'll need.
Tentative Wilderness Trek list --
LIMIT 10 Rigs
I know that people drop out, etc. So if there are more than ten people/rigs interested in going, we'll do a back-up list.

(1 UPHILL
(2 SPERTIERRA
(3 MOJODOG
(4 VOLHOO
(5 NEVADAESH
(6 T1T-CRUISER

Wednesday, October 1, 2008
– Travel to Kanab, Utah
It's a full day to get there from the Southern California area and I recommend you find a hotel to spend the night, rest and take a shower. The Holiday Inn Express (Kanab) is a new facility and it's near the center of town, though there are several other inns you may want to consider. Since everybody likes to drive at different speeds, you can make your way here with a buddy or race/poke on your own.
Thursday, October 2, 2008
– Parnunuweap Canyon & Buckskin Gulch
We'll meet at 8am at the parking lot of the Holiday Inn Express and will have breakfast at a great restaurant in Kanab. We'll leave Kanab at 9:30 and will do the Parnunuweap Canyon run.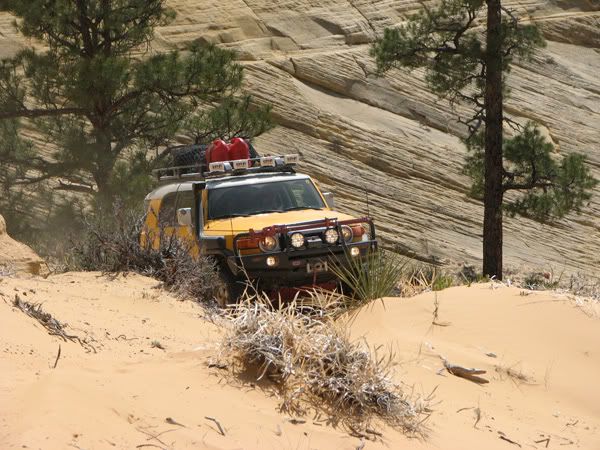 VOLHOO in Parnunuweap Canyon - that's not a glamor shot - that's the actual road/trail/whatever you want to call it!
PARNUNUWEAP CANYON – Trailhead - About a 30 minute drive from Kanab adjacent to the Pink Coral Sands State Park. Spectacular scenery up in the "back" of Zion's National Park. The trail is about 15 miles long and should take 8-10 rigs between 4 and 5 hours to run. The first part of the trail is heavy sand, the last is a series of about 20 river crossings (Virgin River).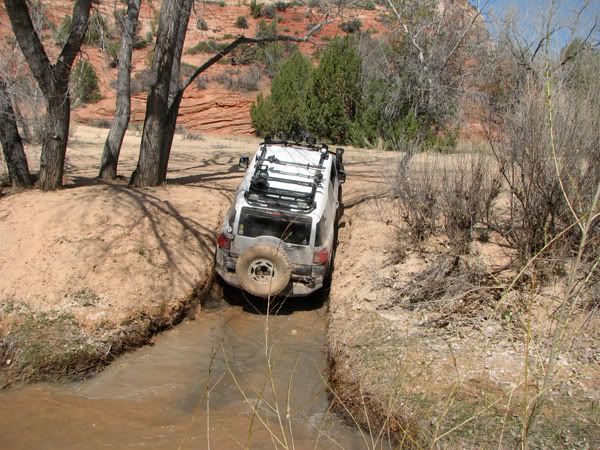 UPHILL crossing the Virgin River.
Following this run, we'll be back on pavement for about 40 miles along Highway 89 to the Buckskin Canyon Road. We will explore Buckskin Gulch, Wire Pass and will be camping near "Middle", close to the Paria River.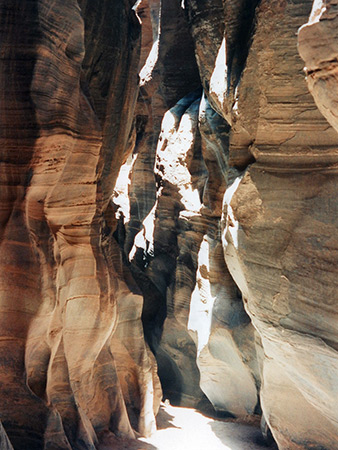 BUCKSKIN GULCH - The longest and deepest slot canyon in the Southwest, and while others are narrower and more photogenic, the length and variety of the terrain in the Gulch make it the best overall. The canyon is narrow for 12 miles; the cliffs become steadily higher downstream, reaching a height of 500 feet above the streambed at the end, where Buckskin Gulch meets the Paria River, which also flows through a deep canyon for several miles around the confluence. There is petrified wood in the area. An official campground is located near Wire Pass but depending on occupancy, there is a small bit of BLM land outside of the "existing camping areas only" restriction where we can camp about 5 miles from there.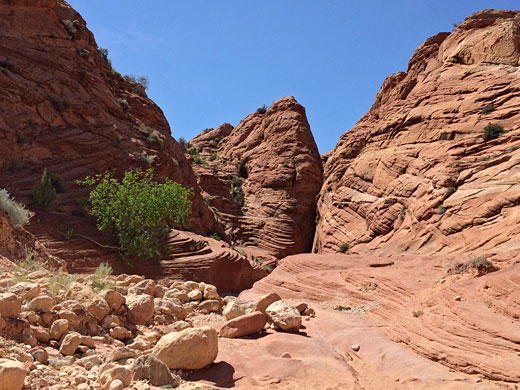 Wire Pass
Middle Road is difficult, rocky and you descend into a canyon along a cliff-face. It should be fun.
Friday, October 3, 2008
- Pareah Ghost Town, Cottonwood Canyon Road & Grosvenor Arch
GHOST TOWN - We'll start the day on a short run to the Pareah Ghost Town site. It was the location of filming for part of "The Outlaw Josie Wales" with Clint Eastwood. The movie set was burned down in 2006, but we'll be close and it's worth seeing.
Following the Ghost Town excursion, we'll backtrack back to pavement and will run down Highway 89 to Cottonwood Canyon
COTTONWOOD CANYON - The surface for the first few miles, along the top of the Paria Rimrocks, is very ridged and bumpy as the road crosses wide open, rather desolate and empty terrain with undulating badlands, grey to brown in colour with no covering vegetation. The track eventually drops down into the Paria River Valley - across a wide flat area that is occasionally flooded then along beneath crumbling cliffs at the east side of a low canyon that begins a little way upstream. The Paria soon turns away northwest at the junction with Cottonwood Creek; road then follows creek for the next 10 miles, along a very straight canyon bordered by the upturned strata of The Coxcomb - an elongated series of ridges running along the valley, created by erosion of upwardly-pointing folded rock layers.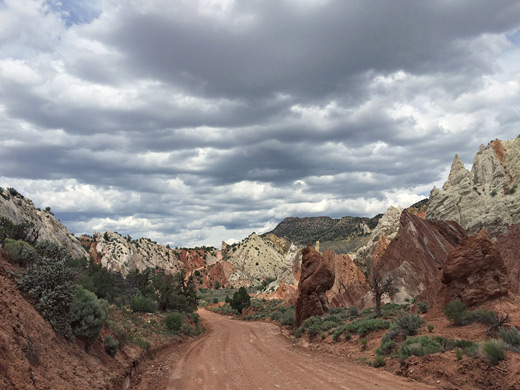 The rocks at either side have strange faded whitish-grey colours; steep, tilted cliffs again with almost no trees or bushes. There is a general air of remoteness, only slightly spoilt by rather conspicuous telephone wires that run alongside the course of the creek, which is dry for most of the year.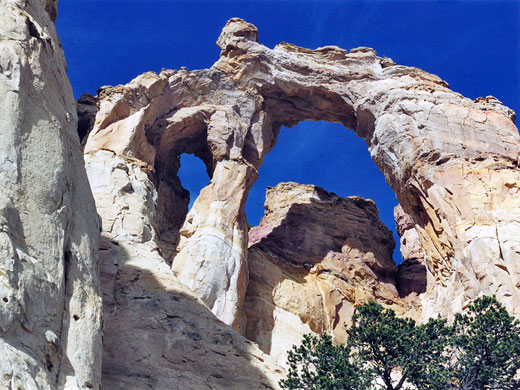 We'll stop at Grosvenor Arch for lunch.
From this point we will head deeper into the Grand Staircase along Four Mile Bench Road to Horse Mountain Road to Death Ridge Road, camping along Alvey Wash Road for the night.
Saturday, October 4, 2008
Saturday is an "open day" and we'll discuss possible routes of travel. Options: Lake Powell (the part nobody drives to), Kelly Grade Overlook, etc. to end up back on the west side of the Grand Staircase for camping at the end of the day - in the Vermillion Cliffs or maybe along the Great Western Trail & White Cliffs area.
Sunday, October 5, 2008
Return to civilization. :-[