Discussion Starter
·
#1
·
Fjamming's "Genie"

First I want to thank those that persisted in prompting me to make this thread (
http://www.fjcruiserforums.com/forums/general-discussion/46823-wheres-fjammings-build-up.html"]the
little trouble makers).[/URL]. Frankly reading the excellent writeups of Mir207, Uphill, TCAO, ShadowWarrior, and of course Air2air, has removed any desire to try and follow their steps and create a thread such as this. They have set the bar extremely high. Threads where people have shown incredible self proficiency and creativity had me question why I should create a thread or why would anyone want to read what I have done? BellyDoc, MissFJ, Cowboy4x4, Dragon, Johnnewyork, LancCruiserSteve, sbectold, KD7NAC_07FJ, and of course FJ_Ollie, have done things that I can only dream of doing. They have designed, crafted, and modified with their own hands.
So why am I here? What can I offer to you that other have not? I'm cheap, so my mods have been deliberate and economical (relatively speaking).
Maybe you can see how I've saved a few bucks.
Enter the
Genie
.
I call it Genie because it's magical
. It takes me where I wish to go sometimes miraculously. It takes me to places of my dreams. And it's...
VooDoo Blue
!
I hope to cover the following:
Genie was purchased end of September 2006. Elsa and I were looking for another car for me. While I've enjoyed my commuter 85 BMW 535i, it was time for a change. We walked into Longo and bought Genie the same day we looked at it. It was a spurt of the moment purchase. It was a purchase that changed my life.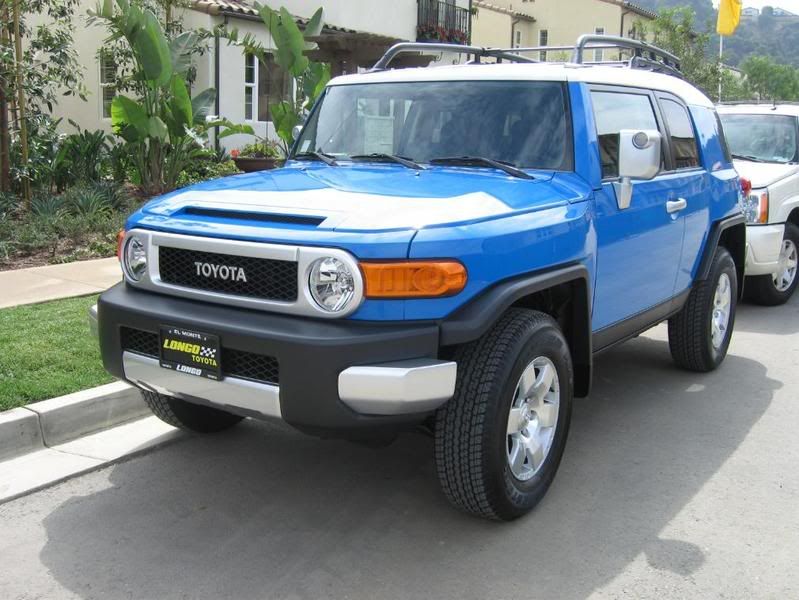 As it stands now (no more roof rack)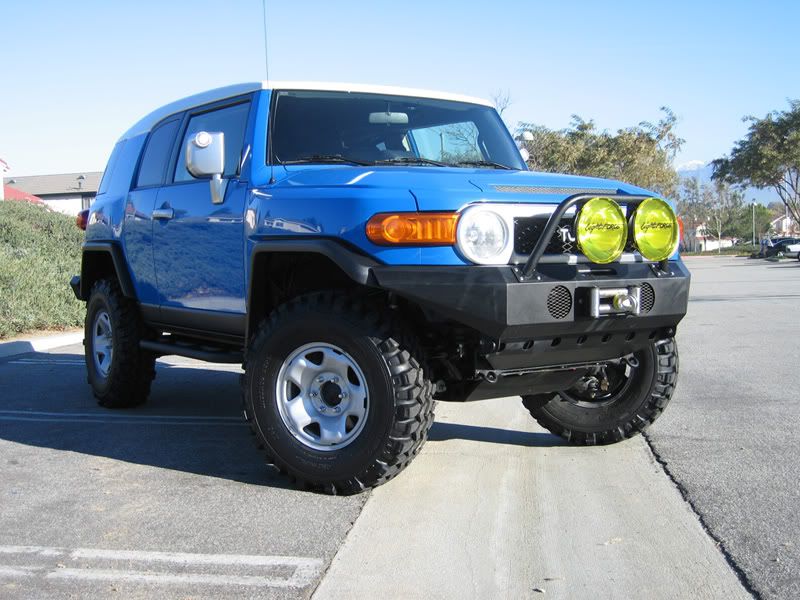 No long after the purchase I found the forum and and was infected with the mod bug. It's a MADNESS! To somewhat contain this disease, I had to have a plan with regards to what I want Genie to be. It was clear that throwing money at it will not make it go away.
The
design philosophy
was to create a vehicle that will be:
Reliable
Capable
Economical
Original
Fun
I've found early that the FJ is not quite big enough to be a true expedition vehicle-at least not without some major modifications. The FJ is very capable stock, but the IFS presents a unique challenge to the more difficult obstacle. At this point, I'm still not sure if I will go down the path where MissFJ and sbectold has taken.
With the design philosophy in place, the upgrade/mod path became a little more clear. To keep the vehicle reliable means I need to select mods that will not punish the OE parts. That means no huge tires, extreme lifts, and most importantly too much weight-all tempting mods... Genie came with locker and Atrac. It's very capable even in stock form, but to keep it reliable while traversing the terrain that I wish to engage in I knew that the suspension and tires had to be changed. So here come the challenge of keeping it economical. It was very difficult to decide on which suspension to get and even more difficult to actually afford it! So I chose to upgrade armor first. I went with the popular and well built TrailGear sliders. I kept the aluminum tin foil front skids for a while. It worked fairly well as long as I don't get in too deep over my head. It was a good time to figure out what interested me. It was clear that rocks were calling my name :worried:
It wasn't for 8 months until my next upgrade.
Late June, I came upon this thread:
http://www.fjcruiserforums.com/forums/parts-sale/30682-parts-fj-sale.html
Clayy was selling various parts off his SEMA show FJ. It was a vehicle that never been offroad. I purchased the following:
All Pro adjustable front and rear suspension with reservoir (Walker Evans).
All Pro Pro Links
All Pro front bumper
AP rear bumper
The front bumper came with a Mile Marker SE9500C winch. I got additional discount when we traded my factory rear bumper for his AP rear bumpers. Clay also gave me a bag full of recovery gear which included tree protector, d-shackles, snatch block, and gloves. After some negotiations my total came out to be $2750. Brand new these items cost about $4096. A cool 30%!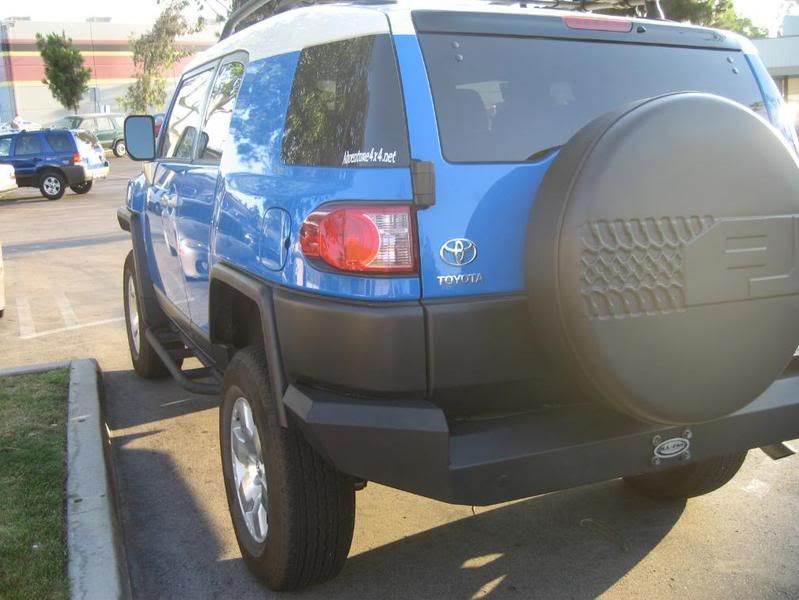 It wouldn't have happend if it weren't for the help of MudlovingFJ and Thugasaur! Thanks guys.
http://www.fjcruiserforums.com/forums/socal-region/31050-terrific-day.html"]Terrific
Day of Modding.[/URL]
Not much happened between June and January 2008. Got sidelined in late September and was out of commission for 2 months while I rehab from a freak accident that included a rock through the windshield. FJs didn't get mods, but I got a few titanium plates in my face. I ordered a set of beadlocks in September, but it turn out to be a
nightmare
. It wasn't until mid November did I get it resolved. As it says in my signature, do not buy from Beadlock Specialties.
Cont...